About Us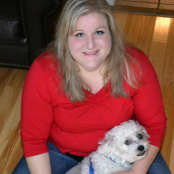 Hi. My name is Lisa and I am the owner of LMC Cleaning Services.
This is a photo of me and my precious dog, Star.

Life seems so rushed and we all need more time to enjoy the fruits of our labors. I take pride in knowing that I was able to help someone spend more time with their family, or that my client was able to come home from a long day at work and just put their feet up and relax.

I welcome you to contact me with any questions or comments as I strongly believe that whether it be positive or negative feedback, my business can only grow with a better understanding of my client's needs and concerns.



---
LMC Cleaning Services was established in 2007. We are proud to be a family owned and operated company. We are committed to providing you with top quality cleaning at competitive prices.

We offer a 100% customer satisfaction guarantee and incentives for referring friends and family members!


Read What Our Customers Are Saying About US


"LMC Cleaning is a lifesaver. They consistently clean my house and will always
accommodate my special requests. Best of all, the customer service is phenomenal
and the staff is always professional. Thank you LMC!"
Erica M. , Oakton, Va

"I absolutely LOVE, LOVE, LOVE this company! I originally used them when
I bought a new home and they cleaned their butts off! Literally scrubbed my house
from top to bottom! I could not have been happier. I was actually going to replace the
stove and refrigerator in the kitchen but decided not to once they finished with them!
They looked like BRAND NEW appliances! Because they did such a good job I
decided to give them a try for a regular cleaning. I choose the every 2 weeks
option. Not only do the cleaners do a fantastic job every time they come but the owner
calls me before every cleaning to remind me that they are coming the next day. They always
leave me a reminder card with my next cleaning date on it, but with my busy schedule it
sometimes slips my mind that they are coming, so this phone call is really important to me.
I also really like the fact that they come with their own cleaning stuff so I don't have to worry
about buying anything or keep track of what I need. This company truly blows me away
EVERY TIME they come to clean my house! I have tried so many different
services in the past having lived in several different apartments and I had
given up on finding a reliable service that could provide me with consistent
excellent cleaning quality and great service.
too!"
Laura J. ,
Manassas, Va

"I love coming home to a beautiful house that looks so clean and elegant - like a plush hotel
with folded towels and tissue flowers after a long day at work. Thanks Lisa and LMC team!"
Danielle N.,
Centreville, Va

"I come home and my house smells wonderful! Floors are so clean I can walk barefoot (that is a
big deal!) I am grateful for the extra attention to my home. I have already recommended them to neighbors!
Lisa is wonderful to deal with and very dependable. Thank you!
Michelle H.,
Manassas, Va


WE ARE CURRENTLY HOLDING A MONTHLY DRAWING FOR OUR CLIENTS TO
WIN '1 FREE DOG GROOMING' AT LUCKY DOG GROOMING

If you are one of our clients then you have already been entered to win a free grooming for your dog at Lucky Dog's Grooming in Manassas, Va.

Congratulations to our "Lucky Dog" winner for February 2017!


Barbara R.

your pet has won a free grooming at
Lucky Dog Grooming of Manassas, Virginia.


You will be notified by phone or email if you are the lucky winner.
(You must call Lucky Dog to schedule an appointment and inform them
that you are the recipient of the lucky dog free grooming certificate.)

---